On Monday, May 30, Smart Commute Markham, Richmond Hill held our 9th annual Bike to Work Day! Over 130 eager cyclists, exhibitors and volunteers helped us kick-off Bike Month (May 30 to June 30) with a 7.5 km group ride under sunny, blue skies. Smart Commute MRH was excited to include a few new additions this year that aligned with our goals of increasing cycling along Highway 7, adding a scenic stretch through David Hamilton Park and promoting safe cycling with an experienced team leader.
Beginning at 7:30, cyclists converged at MMM Group, a WSP Company to enjoy breakfast, bike safety checks from Evolution Cycles, and stretching and soft tissue therapy from the
Canadian Memorial Chiropractic College.
Just before departing for the ride, cyclists heard welcoming remarks and speeches from MMM Group CEO Hugo Blasutta, City of Markham Mayor Frank Scarpitti, Smart Commute MRH Director Flo McLellan, Town of Richmond Hill Ward 4 Councillor David West, Officer Derek Traimer and Road Watch Committee President Bruce Chau, and York Regional Police Officer Jeff Reid. Each speaker expressed their support for cycling initiatives within Markham and Richmond Hill, and stressed the importance of riding safely and obeying the rules of the road, while getting exercise and choosing a sustainable commute.

Photo credit: Cristina Valente
One of the new additions to this year's ride included separating participants into small groups led by "experienced cyclists" who were identified by bright or reflective clothing to provide guidance and advice for all Bike to Work Day participants.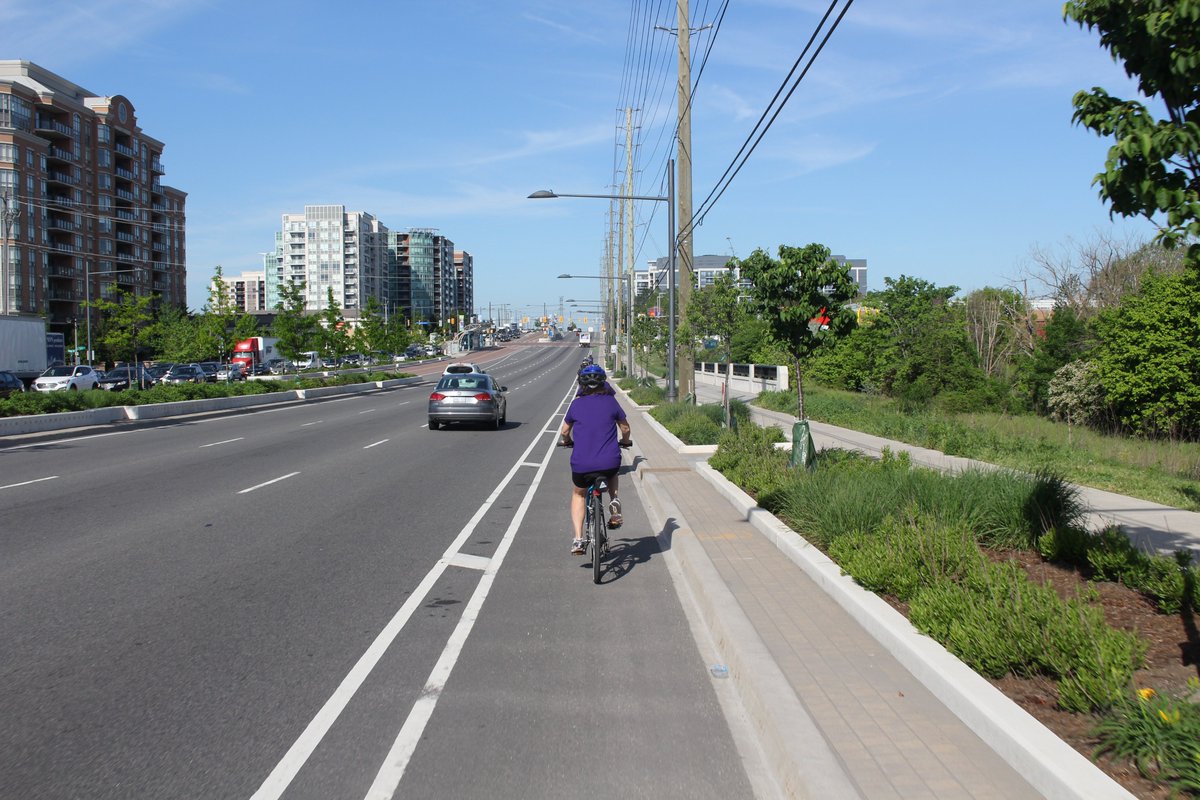 Photo credit: Shawn Smith
Instead of repeating last year's route that travelled north on Commerce Valley Drive West and West Beaver Creek, cyclists rode west along Highway 7 in the dedicated bike lanes before heading north on Valleymede Drive, east on Briggs Avenue and north on Blackmore Avenue. After a brief ride on a multi-use path through David Hamilton Park, cyclists continued east on West Beaver Creek to HDR for a water break and prize giveaways!
Check out the full gallery of images at our Facebook page!
Following the ride, we received lots of positive feedback from many participants who said they enjoyed cycling along Highway 7, and wished the route extended even further! The Smart Commute MRH team was thrilled to receive such input, and we hope that more people will be encouraged to try cycling Highway 7 to work or for leisure. We look forward to seeing increased two-wheeled traffic in the Highway 7 bike lanes this summer!
Thank you to everyone who participated in the Bike to Work Day event! Special thanks to our partners and sponsors: